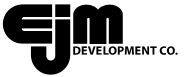 EJM Development Co.'s goal to create quality spaces with maximum functionality and market appeal will be evident at Airport Gateway, which promises to be one of EJM Development Co.'s most accomplished developments to date. For more information on EJM Development Co., please visit their website at: www.ejmdevelopment.com

Other successful EJM Development Co. projects include The Arroyo, a 450-acre mixed use master-planned development with more than 5,000,000 s.f. of Class A office, retail, and industrial space available for lease, located in Las Vegas, Nevada. For more information on The Arroyo please visit: www.thearroyo.com
EJM Development Co.
With 11.5 million square feet of existing industrial, commercial and residential properties, and an additional 500,000 square feet currently under construction, EJM Development Co. is one of the Southwest's leading commercial developers. Formed by Gene and Jerry Monkarsh in 1973, EJM's portfolio includes properties throughout Arizona, California, New Mexico, Nevada and Utah, serving more than 700 tenants.
EJM participates in all elements of the real estate industry, with its principals having a combined 100-years of experience in construction, development, and project management. The Company has in-house acquisition, legal, marketing, development, and property management personnel, which help contribute to its' continued success in developing and leasing commercial projects.
Satisfied tenants are vital to any real estate owner and EJM is dedicated to establishing long-term associations with its numerous clients. In some cases, EJM has maintained nineteen-year plus relationships and has leased multiple locations to repeat clients. It is close attention to clients' needs, along with providing high-quality service, that has brought EJM's clients back, time and time again.
Extensive knowledge, careful planning, and long lasting client relations are what enable EJM to contribute to the developmental success of the communities in which they build sustainable and responsible projects.
For more information on EJM, please visit their website at: www.ejmdevelopment.com